After Khaos comes Discord!
Discord is the home to all the adult (IE pornography) comics in the Khaos universe, as well as Tab's other comic projects.
Paypal hates digital porn, so all of the Khaos side comics have been moved from KhaosKomix.com to here so you can still enjoy them.
 Update schedule
Shades of A updates twice a week on Monday and Wednesday. Minority monsters and British Yaoi will update about once a week on the weekend.
About Shades of A
Shades of A follows the story of Anwar Sadar, and openly asexual guy who gets dragged to a kink night by his best friend (and messy ex parter) JD. There he meets Chris Slate, a middle aged transvestite with a penchant for Dr Who. The story follows their relationship and the assumptions they make about each other.
This story began as a parody of the infamous Fifty Shades of Grey, and spiralled into the epic length tale  which you will see unfold here.
Many main plot points (when I could find them, the original is 50% meaningless fucking) and characters have been lifted from the book, given new spins and dare I say personalities, then set free to interact.
Here's a comic describing the lengthy process I went through researching the book: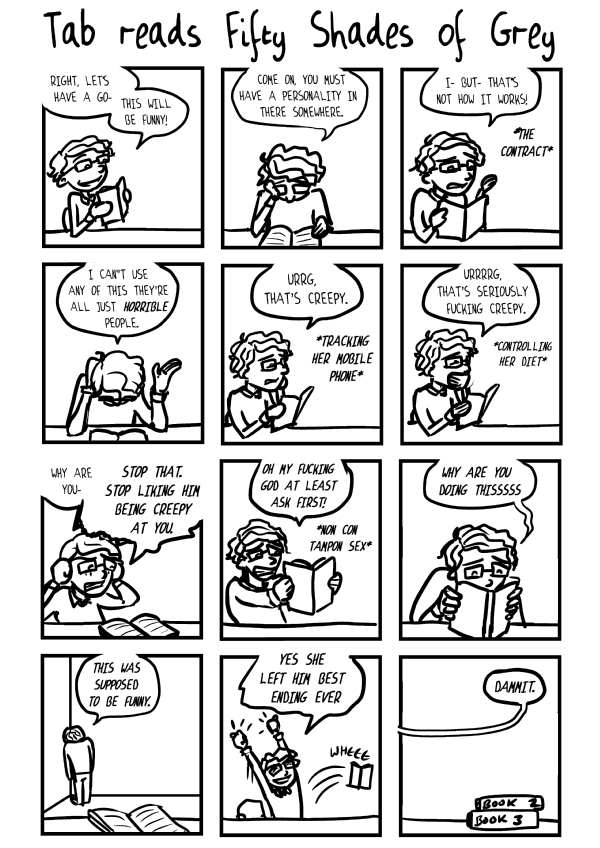 About Tab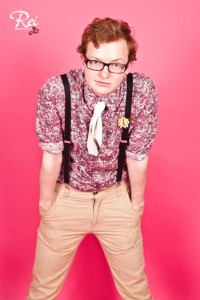 I'm Tab.
I'm a full time costume maker and comic writer. You can find my costume stuff at www.khaoskostumes.com.
My full name is Mr Tab Artemis Kimpton, which is not short for anything except 'totally fucking awesome'.
I live in England, I was born in 1990 and I'm doing this comic because I feel that if you're fed up of stereotypes being terrible in media you should start writing your own media.
Please feel free to drop me an email, I appreciate your thoughts on this giant clusterfuck of a project I've set out for myself.
Send Tab an email: Tab@khaoskomix.com
Visit Tab's LiveJournal, Tumblr or Facebook. The Forum is also good.
Commission details can be found here