Shades of A
Shades of A



When openly asexual Anwar Sardar gets dragged to a kink night by his (soon to be ex) best mate, JD; he is surprised to make friends with Chris Slate, a middle aged transvestite with a penchant for Dr Who. Convinced they'll never meet again Anwar puts him out of his mind, but the awkwardly charming man keeps turning up in his life.

Topics: Asexuality, Gender, Genderqueer, Crossdressing, BDSM, Kink

Shades After



The continuing story of Anwar, Chris and JD. All seems well until Anwar outs himself and Chris at his graduation. Family, money and gender all rear their heads in the second and final instalment of this series.
Check out the latest page!
Topics: Asexuality, Gender, Genderqueer, Crossdressing, BDSM, Kink
Minority Monsters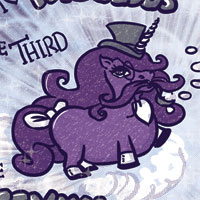 Read Minority Monsters
A Fabulous land where fabulous creatures roam- this monthly updated series features monsters of all minorities, voted on by the fans!
Khaos Komix
Tab's first comic and a queer epic tale featuring 8 teenagers. Each pair can be read individually in any order, but it's best if you start from Steve's story.
Steve's Story



Steve loves his best friend Mark, but an awkward talk with his Dad has him questioning what kind of 'love'. The internet and vodka doesn't help.

Topics: Bisexuality, gay relationship, awkward parents, drunken sex

Mark's story



Mark is so done with Steve's bullshit. In an attempt to get over him he starts dating Amber, but he still wants Steve to be happy. When Amber mentions her friend Nay is single they fall headlong into the most awkward double date in history.

Topics: Bisexuality, gay relationship, crushes, drunken sex, angst.

Amber's Story



Amber's loved Nay for as long as she can remember, but Nay is definitely interested in boys. Hopefully she'll see past her fear long enough to pick up on the hints Nay's been dropping…

Topics: Bisexuality, lesbian relationship, unrequited love, jealousy

Nay's story



Nay's known she's bisexual since a summer fling with her friend's geeky older sister. She's in college now and ready for something a bit more. She knows Amber likes her- but why doesn't she make a move?

Topics: Bisexuality, older woman, frustration.

Tom's Story



Tom's finally got the name he wants, he's started in a new place and can leave all his old shit behind him. But it's hard to keep everything hidden when all he wants to do is rip Alex Murphy's clothes off.

Topics: Transgender character, Female to Male, gay relationship, transphobic bullying, violence.

 

Alex's story



Alex was happy with video games and friendship until Tom turned up. Faced with the fact he might be as gay as the bullies tell him, he chucks himself head long into it- but Tom keeps blowing hot and cold and even the teachings of Optimus Prime couldn't prepare him for the fight his first love brings.

Topics: First love and lust, homophobic bullying, past mention of child abuse, transgender character, awkward romance.

 

Charlie's Story



Gender didn't matter until school, and then it really mattered. Charlie makes the choice to be herself, but the cost is high and she has to escape. Finally safe from harm she finds herself falling for the boy most likely to hurt her again…

Topics: Bisexuality, transgender character, Male to Female, transphobic bullying, violence, gender dysphoria.

 

Jamie's story



Jamie knows he's a bad person, he's known from a very young age because the man next door told him so. He's trying to get past it, but everything gets muddled, and it's not surprising that his friends are tired of his outbursts. Charlie feels like his salvation, but he can't help but worry that he'll drag her down too.

Topics: Childhood sexual abuse, homophobia, transgender character, implied kinkiness, get ready to cry.

18+ Side Story 1
(Mark and Steve)



Set right at the end of Mark's story, the first sex scene that we missed!

Topics: Gay relationship, buttsex, blowjobs, awkward parents

18+ Side Story 2
(Amber and Nay)



Amber and Nay are getting along great, but after years of pining away Amber is too scared to take things further. Maybe a bath will help her relax?

Topics: Lesbian relationship, Bathtub sex, oral sex, naked boobs, nerves.

18+ Side Story 3
(Tom and Alex)



After all that flirting Tom is ready to rock Alex's world, but is Tom ready for Alex to return the favour?

Topics: Gay relationship, transgender character, blowjobs, oral sex, first time, leg hair, awkward parents

18+ Side Story 4
(Charlie and Jamie)



They're older and wiser, but something as fraught with emotion as sex will always be difficult. They both want it badly, but they're going to have to figure out what it is first.

Topics: transgender character, past sexual abuse, triggers during sex, heavy petting, naked boobs.

18+ Side Story 5
(Mark and Steve)



Everyone's growing up and Mark is terrified of being left behind. He wants to make the most of the time they have left and Steve…Steve would do anything to make him happy.

Topics: Gay relationship, buttsex, angst, blowjobs, naked cocks.

18+ Side Story 6
(Amber and Nay)



Sometimes sex, even with a couple that knows each other well, doesn't go so great. Long hair is difficult to manage, 69s are not intuitive and jealousy rears it's ugly head once more…

Topics: Lesbian relationship, oral sex, 69s, jealousy.




18+ Side Story 7
(Tom and Alex)



Tom's a couple of weeks out of top surgery and everything is going great- or at least it would if Alex stopped treating him like glass!

Topics: Gay relationship, transgender character, surgery scars, blowjobs, masturbation, naked cocks

18+ Side Story 8
(Charlie and Jamie)



They're finally going to do it this time, nerves be damned! Jamie's been ready for a while, but it turns out Charlie is the one who's been scared.

Topics: Bondage, triggers during sex, anal sex, green condoms, vibrators, cup of tea mid coitus.

18+ Veronica's Story



Everyone knows about Kelly, Alex's sexually promiscuous older sister. This is the story of her girlfriend, the stumbling steps of the beginning of their relationship and the wrong turns it took before the couple they are today.

Topics: Lesbian relationship, past sexual abuse, polyamoury, casual sex, naked vaginas, 
Full Archive